The extremely long hours in his previous job as a regional sales facilitator took its toll on Isaac Teo, which led to his decision to make a career switch.
 "I was travelling a lot for work and felt that I could be utilising my time better. It's never too late to make a career switch and although I was 32 at that time, I was determined to create a name for myself in the insurance trade," said the 41-year-old who is now a senior financial services director at AXA Singapore.
"I chose this sector because I wanted the chance to be self-employed and be my own boss. I get to decide how to manage my time, and I wanted better financial stability. In this line, there's a lot of financial freedom because the sky is the limit.
"I often tell others, if you do not want to build your own dreams, someone else will employ you to build their dreams," he added.
It took a lot of hard work, especially at the beginning when he was still new to the industry, but Isaac has always welcomed challenges.
"I faced a lot of rejection which was tough but once I set my mind to something, I am determined to achieve it, regardless of how hard it may be. In fact, the harder it is, the more motivated I will be," he said.
Within four years, Isaac progressed through the ranks from financial adviser to director and in another three years, he reached his current role as senior director. In his first year, he was also top rookie and made it to the Million Dollar Round Table.
One of the things he attributes to his success is the willingness to put in the work. "It's not going to be easy," he warned, "You must be ready to put in hard work. Keep your eyes on the prize and don't be afraid of difficulties."
He faced his biggest challenge in 2014 when over half his team of financial planners quit.
"When something like that happens, you inevitably start to doubt yourself and question your methods. I had to rebuild my team, but it gave me a chance to implement some changes for the better, whilst still sticking to the same set of beliefs. Everything turned out well and in the past two years, I've only had 2-3% attrition rate in my team," he shared.
Formerly a competitive soccer player in his teenage years, Isaac started running marathons in his late 20s and even did a couple of sprint triathlons.
However, while he was busy building his dreams, he began to neglect his health. "I realised that my lifestyle was getting unhealthy and I noticed the weight gain over the years too, so I decided it was time to do something and get a regular fitness regime going."
Despite the struggle with work-life balance, Isaac now finds time to hit the gym two to three times a week and get some running or soccer in, in between. He regularly joined the Weekly Workouts with AXA Game Changers and hopes run a marathon again one day!
"You know, running a marathon is akin to life. When you hit the wall at the 30km mark, you only have two choices – it's either you give up, or you press on no matter how fatigued you are and get to the finish line. It's all in the mind!" he concluded.
* * * * * *
Isaac and his award-winning team are calling you to join them. Click here to find out more…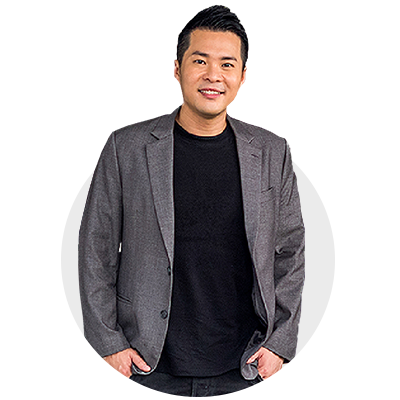 Isaac Teo
Senior Financial Services Director
* * * * * *